In the news
We have attracted the attention of the local media with some of the positive work we are doing in school...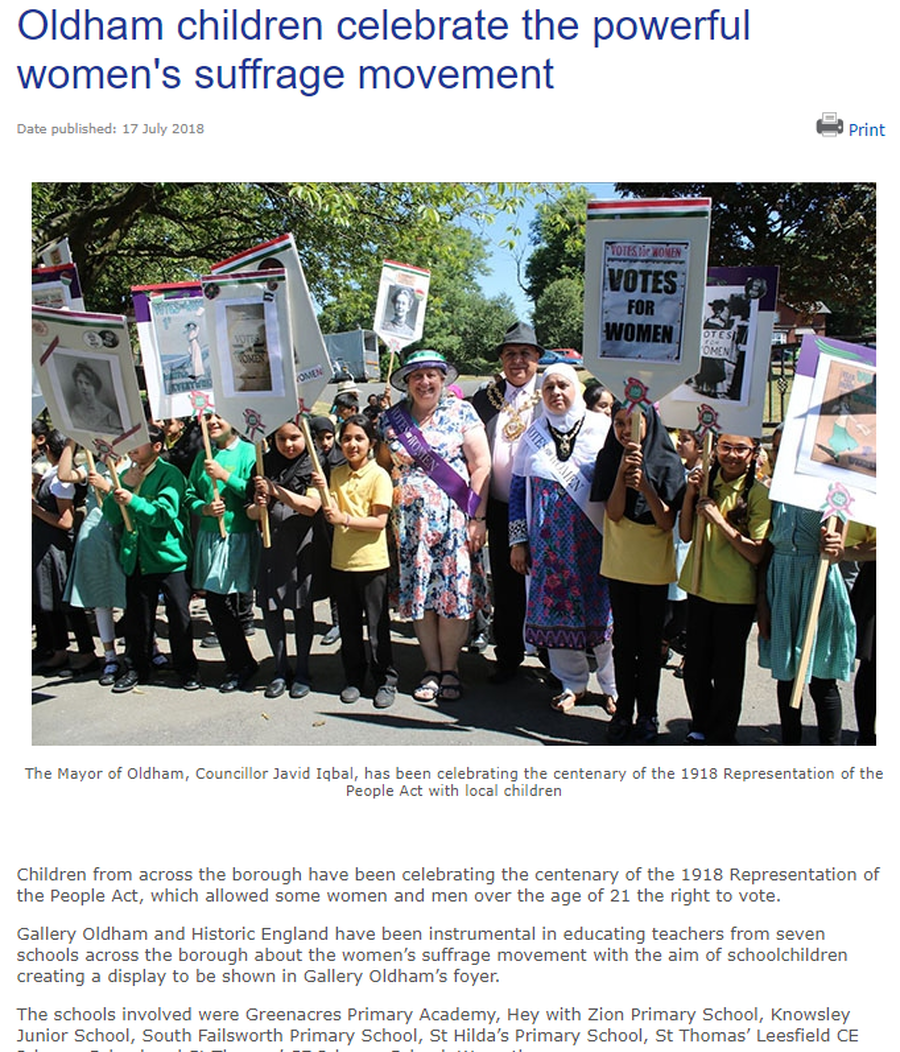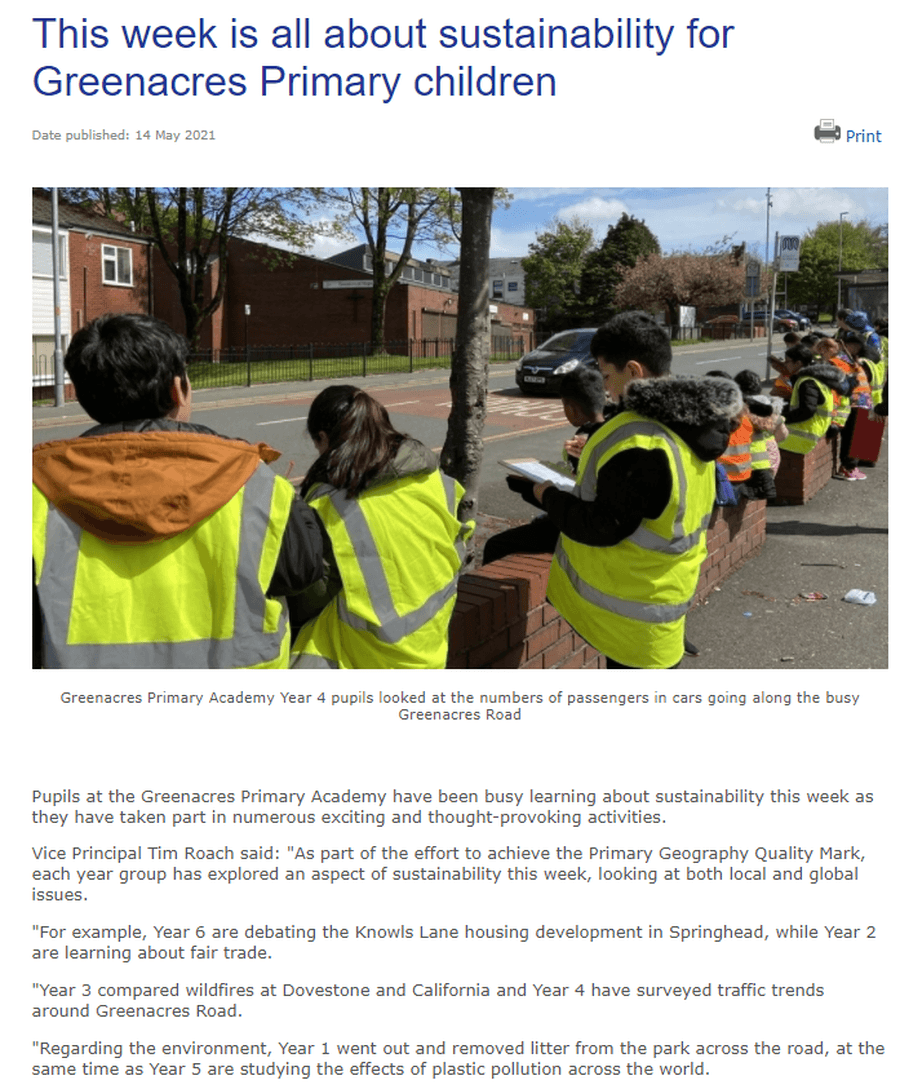 National Film Competition runners up!
https://www.oldham-chronicle.co.uk/news-features/139/main-news/141789/greenacres-pupils-could-be-star-filmmakers-of-the-future
Work in our local area...
https://www.theoldhamtimes.co.uk/news/15777946.greenacres-primary-school-pupils-give-their-doorstep-a-spring-clean/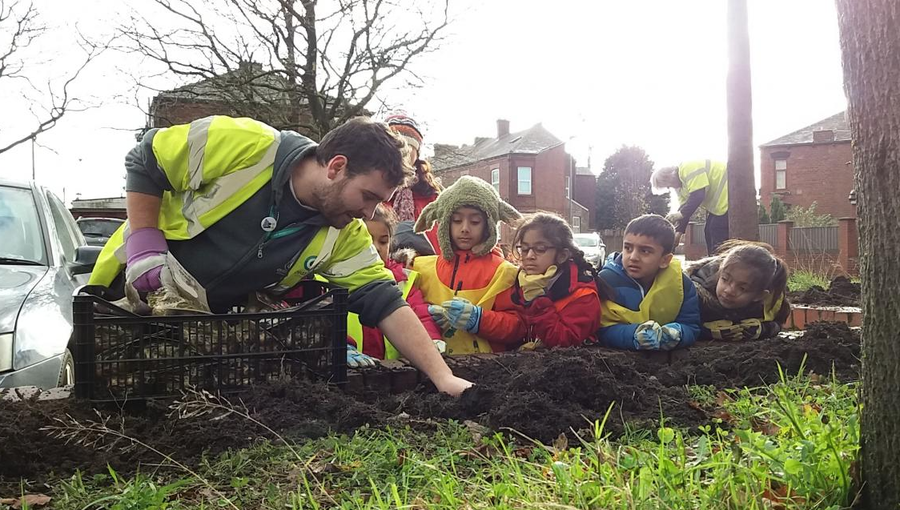 Choral Speaking winners for two classes this year at the Oldham Coliseum...
THERE was double delight for Higher Failsworth Primary School as two of their Reception classes were crowned winners of this year's Oldham Choral Speaking Festival.
Once again, Oldham Coliseum hosted the 36th annual event which saw around 2,000 students from primary schools across the borough compete over three days.
Arranged and run by the Rotary Club of Oldham Metro, the event is the biggest of its kind in Europe and the second biggest in the world.
Since its launch in 1985, it has seen more than 60,000 pupils from the aged of four to 11 take part.
It aims to help children increase their enjoyment of poetry and enhance their understanding and appreciation of it by the imaginative interpretation.
And it develops their self-confidence and capacity to speak in public with high standards of presentation, clarity of diction and fluency of delivery.
This year's performances by pupils included everything from dancing dinner ladies to tongue-twisters, bringing the sights and sounds of poetry alive on stage.
Professional adjudicator Ann Warr judged each performance and decided who to award trophies and special commendations to, as well as certificates for every school.
A Presentation Morning was held at the Coliseum in April when the winning choirs performed again and collected their trophies.
The Ann Warr Trophy was presented by the adjudicator herself to the joint winners – two of Higher Failsworth Primary School's Reception classes.
Miss Cave's class performed Excerpt from Adventures of Isabel by Ogden Nash and The King of all Dinosaurs by Paul Cookson while Mrs Burns' class performed Snail by Steve Turner and The Monster Under Your Bed by Clare Bevan.
Ann has been a judge for the festival since 2007, but this event was her last as she is now retiring.
She said: "I have been coming here for a very long time and I have enjoyed it so much. I have a huge reason for being here – the children.
"This event teaches them so much and gives them enjoyment too. I believe in it so much.
"Thank you to the Coliseum and Rotary. The opportunity you give these children is wonderful."
A new Mel Farrar Trophy was presented this year in memory of the Rotary member who was involved with the Festival since its launch in 1985 until his recent death.
The award was presented by his wife Ruth to Higher Failsworth Primary School Year 4 for their impressive performances of Veruca Salt Poem Excerpt by Roald Dahl and The Grobblies by Clive Webster.
The John Cleary Trophy – named after one of the founder members of the Rotary club – was presented by Eric Russell, Rotary District Governor, to Greenacres Primary Academy Year 2.
They took to the stage to recite The Three Singing Birds by James Reeves and Don't Forget Your Capital Letters and Full Stops! By Ian Bland.
The Madeleine Lindley Trophy was awarded by the sponsor Madeleine Lindley Books representatives Rachelle Carter and Amelia Clayton to St Matthews Primary School Year 3CH.
Pupils performed The Car Trip by Michael Rosen and The Inspector Calls by Gervase Phinn.
The Mayor of Oldham Cllr Jenny Harrison awarded the Upper Junior Trophy to Higher Failsworth Primary School Year 6, who shone with their performances of Gran Can You Rap? By Jack Ousby and The Dragon Who Ate Our School by Nick Toczek.
The Mayor commented: "What a fantastic celebration and thank you for making sure the Festival has come back with a bang this year after Covid.
"Well done to all the students and teachers who obviously put so much hard work into this."
7th Annual Poetry Week 2022
The Oldham Times
An Oldham school has celebrated the creativity that poetry can inspire in young readers and writers.
Greenacres Primary Academy on Dunkerley Street held the annual event last week which saw every class, from Reception to Year 6, learn a poem and recite it at the school's Poetry Slam.
This year's theme was diversity and inclusion, and children were encouraged to think about the similarities and differences that people share.
Past themes have included the centenary of the First World War, politics and democracy, and the school's 50th anniversary.
The poet Andy Tooze, from Buxton, Derbyshire, and his illustrator, Martin Olsson, also visited the school and taught workshops over the course of two days.
The workshops gave children at the school the opportunity to explore ways to express themselves in words and pictures.
Before working as a full-time poet, Andy Tooze, whose books include The Poetry Bug, The Poetry Bug Strikes Again and Green Shoots Rising, spent nine years working in primary schools and now offers poetry experiences to students.
Commenting on the school's annual event, vice principal Tim Roach said: "Poetry Week is one of the highlights of the busy autumn term, and everyone gets excited about the visit of Andy and Martin.
"The school buzzes with creativity, language, and rhyme. It's one of the things about Greenacres that the children love, and it's great to have that recognised by visitors to school."
Greenacres Primary Academy was rated "good" by Ofsted in September, with personal development rated as "outstanding".
Results from an end of June inspection by Ofsted inspectors have offered wide praise for everyone involved at the Greenacres Primary Academy.
"Everyone is welcomed with open arms at Greenacres Primary Academy. Each person is appreciated for their individuality. Warm and friendly relationships underpin this caring learning community."
The report's opening lines set an extremely positive tone that continues throughout.
Ofsted inspectors praised how pupils felt safe, supported, knew staff cared about them and had ambitions for every child.
Right the way through their learning experience, pupils at the academy have been found to have strong personal development, a rich and varied learning experience and when the time came to leave the school after year 6 went onto secondary education as confident, articulate, responsible, caring and respectable citizens.
It was noted that a love of books and reading is an important feature of school life and beautiful and inviting book displays are a prominent feature of the school.
The report also praised the Academy's leaders, saying that pupils benefitted from a well-designed curriculum that teachers taught with enthusiasm resulting in pupils having positive attitudes toward learning.
All staff were seen to have high expectations for every child and felt very well supported with their workload and wellbeing.
The report continued: "Pupils are polite, friendly and eager to talk about school life.
"They show care and consideration for each other and are keen to participate in all that school offers."
It was also noted that leaders' commitment to nurturing and celebrating the talents of all pupils is exemplary.
It had further praise for how pupils who might need some extra support are treated, stating that staff appropriately identify the additional needs of pupils with SEND (special educational needs and disabilities) and make sure that they have the same access to the ambitious curriculum that their classmates do.
It also stated that pupils get off to a great start in the Early Years and start to learn to read from the moment they begin school.
The phonics programme is very well-established and staff teach with confidence.
Katie Thornton, Principal of Greenacres Primary Academy, said: "I'm so proud to see this hugely positive report reflect all of the hard work from our staff and South Pennine Academies Trust.
"Everyone who works at Greenacres is committed to making it the best school we can be and it's fantastic for that commitment to be recognised by Ofsted.
"The report has shown that our pupils are motivated and achieve well in the beautiful and purposeful environment we've created for them.
"It's exactly what we set out to accomplish and to get rated 'Outstanding' in the area of 'Personal Development of Pupils' is a real achievement.
"I'd like to thank everyone involved with Greenacres for helping us to get to this point and of course, a big thank you to our pupils and families as well, who we thoroughly enjoy working with every day."
Greenacres Primary Academy staff and pupils celebrated a double success this summer, with the school achieving the gold standard in two prestigious education awards.
The Historical Association Quality Mark is awarded to recognise the excellence of history provision in a school.
The assessor remarked that "history has a very high status at Greenacres".
The Artsmark is the only creative quality standard for schools, accredited by Arts Council England.
Entering both for the first time, staff were delighted to receive the official accolades, which demonstrated the breadth of the curriculum offer at the Oldham primary school.
David Dean, history lead, said: "The process provided us with a framework for ensuring we have a broad and balanced curriculum.
"The gold award has vindicated the high status that we feel history has at Greenacres."
The school's curriculum features a combination of British and world history, along with a generous helping of learning about Oldham's past.
The report highlighted the scope of history throughout the school, stating: "A tour of the school provided ample evidence of the prominence of history within the curriculum.
"Considerable work has been undertaken to make the curriculum more diverse.
"Pupils were able to discuss a range of examples of history within their immediate locality.
"For example, one child was able to tell the assessor about the local park and how he had seen a plaque that told him about how it was created.
"Another example was a child that had independently completed a project about their family history and how they came to settle in the local area.
"There is also a strong focus on Annie Kenney, the local suffragette."
Tara Gould, Early Year and arts leader, said: "We are extremely proud that we have received the Gold Artsmark Award here at Greenacres.
"This really highlights the opportunities that have been provided for our children, whether that be musical, performance or creativity.
"We have also developed and maintained strong relationships with outside agencies that allow us to expand those opportunities far and wide."
The Artsmark report acknowledged the school's efforts in promoting creativity through their curriculum.
"Collaborations with cultural organisations such as with Oldham Coliseum, Oldham Art Gallery, Speech Bubbles [Oldham Theatre Workshop], and a poet and illustrator are contributing to quality arts and cultural education and experiences," the report added.
These awards will be added to the already impressive list that the school possesses.
However, not to rest on their laurels, they are already preparing for the reaccreditation of the Geography mark, and the capture of a Primary Science Quality Mark.