The latest information for Friday 20th March 2020
Latest Information as of 19.3.20 at 12.30pm
Coronavirus
Based on the World Health Organisation's declaration that this is a public health emergency of international concern, the UK Chief Medical Officers have raised the risk to the UK to high. Please click here for more information.
As of Thursday 19th March 2020 there have been 12 confirmed cases of coronavirus in Oldham.
If your child or anyone else in your household is showing signs of being unwell and you believe they have been exposed to coronavirus, you are now advised to keep your child at home for 14 days, along with the rest of your family.
Please do not bring students to school or the school premises if they show signs of being unwell.
If your child shows signs of being unwell at school we will ring you immediately and ask you to collect them. We have a designated area set up to keep unwell children away from their classmates.
Useful links
Please click on the following links for more information and advice:
Coronavirus update and advice - Oldham Council
How to prevent it from spreading
The best way to prevent coronavirus from spreading is by practicing good personal hygiene.
Always use tissues to catch your cough or sneeze

Dispose of your tissues as soon as possible

Wash your hands as soon as you can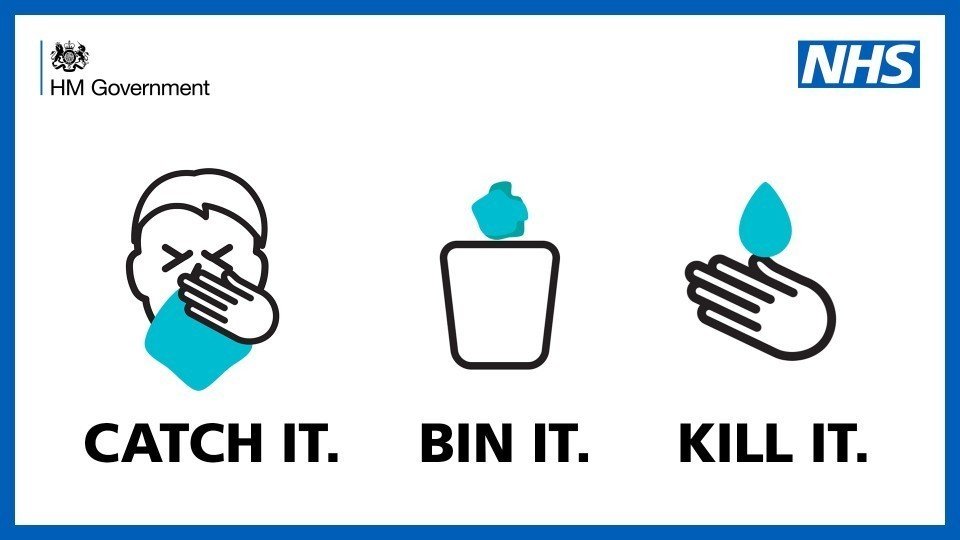 What we are doing
Staff are being kept up to date with all of the latest information and our plans, practices and procedures are being adapted when new advice is issued.

Our infection control policy, health and safety policy and first aid policy are being followed rigorously.

Every classroom has antibacterial handwash and tissues.

Children and staff are being asked to wash their hands as soon as they come into school, before and after they eat as well as after they sneeze.

Children are being reminded about the importance of good personal hygiene both in the classroom and in whole school assemblies.

We are getting rid of bars of soap in the bathrooms and are in the process of replacing them with fixed soap dispensers.

All door handles/plates etc are regularly cleaned.

Dish cloths, tea towels and sponges have been disposed of and replaced.

Musical equipment is being thoroughly cleaned and ipads are wiped.

We are asking all staff and visitors to use hand sanitiser both when they arrive and when they leave.

Posters from Public Health England have been displayed around the school as well as on Facebook to advise parents and staff.

Occasions such as our Early Years stay and plays and our Mother's Day event have been cancelled or postponed. We are very sorry to have to do this but the safety of our families comes first so we hope you understand.

Stringent procedures are in place for dealing with adults or children that are presenting symptoms.

We will of course continue to send out information to parents as appropriate.
What we need you to do
We are doing our very best to keep our children and families safe but we need your help. Please ensure all family members are following the advice from the NHS:
Practice good hygiene at all times.

Model good hand washing techniques to your children.

Remind them why they need to wash their hands regularly.

Encourage them to sneeze into a tissue rather than their hands and dispose of tissues immediately.

If you suspect you or a family member has coronavirus please ensure you follow the appropriate advice from the NHS and do not bring them into school.
Page updated on 19th March 2020