Parents Evening Risk Assessment Autumn 2020
Revised school start and finish times and procedures
FAQ for Parents
What happens if I don't want my children to return to school?
School is compulsory for all children from Tuesday 1st September. We have put lots of measures in place to ensure that school is safe. If you do not send your child to school we will follow our attendance policy and chase up any missing children. This may result in a fine.

Will there by breakfast club?
Breakfast club is up and running as usual, from 8.15 am. We have separated children into bubbles.
Will my child be taught by their usual teacher and teaching assistants?
Yes, all classes are together again with their usual teacher.

Will there still be work on Tapestry?
Only the usual evidence captures and assessments will be on Tapestry, as normal. If we go into a full lockdown again, then work will be sent to children via Tapestry for the children in Nursery and Reception.

Will Google Classroom still be running for children who don't attend?
All children will be expected to attend school. However, in the event of a phase bubble being quarantined after a positive case, or in the event of individual children having to isolate, we will provide work through Google classroom.


Will you still be following the curriculum?
Yes, we are up and running with our new, exciting curriculum. Even if we switch to remote learning, we will continue with our curriculum.

How will you enforce social distancing in school?
We have to be honest: with the younger children, we cannot guarantee that teachers can force children to socially distance. We are putting phase bubbles in place to ensure they do not mix with any other children outside their phases, e.g Nursery and Reception might mix, Year 1 and Year 2 might mix, Year 3 and Year 4 might mix and then Year 5 and Year 6. We aren't expected to enforce distancing, but we will remind children regularly.

What safeguards are you putting in place to stop the potential spread of the coronavirus/COVID-19?
Before school closed, we had already put in place hygiene routines such as the increased use of hand washing facilities, hand sanitisers and reminders about social distancing. We will continue with our high standards in hand washing and hygiene. We have an isolated hospital wing in place and anyone displaying symptoms of COVID-19 should not attend school.

Will the school be deep-cleaned every day?
No, the school will be thoroughly cleaned everyday as normal.

How will teachers teach if they are wearing a facemask or PPE?
Teachers are wearing a face shield at the moment, which is because Oldham is an area of intervention. They are not required to wear this in the classroom, only in communal areas.


What happens if someone shows the symptoms of coronavirus/COVID-19?
We are relying on parents to tell us if your child displays any of the symptoms. If we observe the symptoms in school (a persistent cough and a high temperature), we will isolate the child and call parents. Testing for coronavirus will be available locally for children, but it is up to the parents to take them for a test.
What happens if a teacher or pupil test positive for coronavirus/COVID-19?
If anyone attached to a phase bubble tests positive, the whole bubble – all the children in that bubble and all the adults who have worked with them – must self-isolate for 10 days.
What are the feelings of teachers on coming back?
Our teachers want to get back to school and teach!

Our new school rules for children returning:
Free School Meals
To find out if you may be eligible for Free School Meals there is a simple online form you can fill out to find out. Even if you don't think you are eligible it will only take a few minutes of your time:
https://www.cloudforedu.org.uk/ofsm/sims
A letter was sent out about this a few months ago so for those that responded giving permission for us to do it on your behalf, we have already checked for you.
If we find out you are eligible then we can set you up with the Free School Meal voucher.
If you have any questions please email admin@greenacres-academy.org and we will help in any way we can.
Edenred vouchers
We understand some parents are struggling with their vouchers for various different reasons. Please contact us on the above email address and we will help in any way we can. For some Frequently Asked Questions please click here.

Latest Information as of 19.3.20 at 12.30pm
Coronavirus
Based on the World Health Organisation's declaration that this is a public health emergency of international concern, the UK Chief Medical Officers have raised the risk to the UK to high. Please click here for more information.
If your child or anyone else in your household is showing signs of being unwell and you believe they have been exposed to coronavirus, you are now advised to keep your child at home for 14 days, along with the rest of your family.
Please do not bring students to school or the school premises if they show signs of being unwell.
If your child shows signs of being unwell at school we will ring you immediately and ask you to collect them. We have a designated area set up to keep unwell children away from their classmates.
Useful links
Please click on the following links for more information and advice:
Coronavirus update and advice - Oldham Council
How to prevent it from spreading
The best way to prevent coronavirus from spreading is by practicing good personal hygiene.
Always use tissues to catch your cough or sneeze

Dispose of your tissues as soon as possible

Wash your hands as soon as you can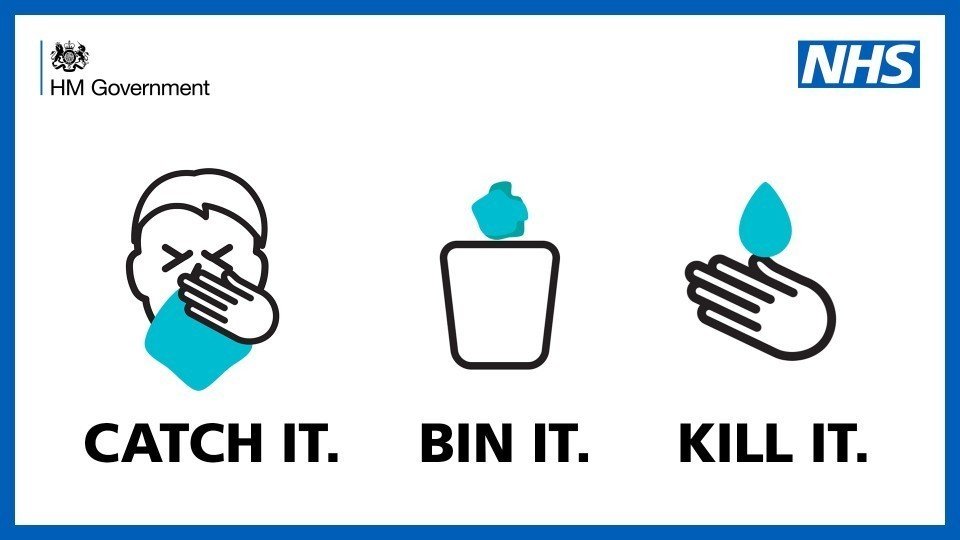 What we are doing
Staff are being kept up to date with all of the latest information and our plans, practices and procedures are being adapted when new advice is issued.

Our infection control policy, health and safety policy and first aid policy are being followed rigorously.

Every classroom has antibacterial handwash and tissues.

Children and staff are being asked to wash their hands as soon as they come into school, before and after they eat as well as after they sneeze.

Children are being reminded about the importance of good personal hygiene both in the classroom and in whole school assemblies.

We are getting rid of bars of soap in the bathrooms and are in the process of replacing them with fixed soap dispensers.

All door handles/plates etc are regularly cleaned.

Dish cloths, tea towels and sponges have been disposed of and replaced.

Musical equipment is being thoroughly cleaned and ipads are wiped.

We are asking all staff and visitors to use hand sanitiser both when they arrive and when they leave.

Posters from Public Health England have been displayed around the school as well as on Facebook to advise parents and staff.

Occasions such as our Early Years stay and plays and our Mother's Day event have been cancelled or postponed. We are very sorry to have to do this but the safety of our families comes first so we hope you understand.

Stringent procedures are in place for dealing with adults or children that are presenting symptoms.

We will of course continue to send out information to parents as appropriate.
What we need you to do
We are doing our very best to keep our children and families safe but we need your help. Please ensure all family members are following the advice from the NHS:
Practice good hygiene at all times.

Model good hand washing techniques to your children.

Remind them why they need to wash their hands regularly.

Encourage them to sneeze into a tissue rather than their hands and dispose of tissues immediately.

If you suspect you or a family member has coronavirus please ensure you follow the appropriate advice from the NHS and do not bring them into school.