Rights Respecting Schools
Unicef UK works with thousands of schools across the UK to promote children's rights and to put them at the heart of schools' practice and ethos. The Rights Respecting Schools Award programme supports schools to embed the United Nations Convention on the Rights of the Child (UNCRC or CRC) in their practice to improve well-being and help all children to realise their potential.
The UN Convention on the Rights of the Child sets out the human rights of every person under the age of 18. The Convention is an international human rights treaty which was adopted by the UN General Assembly in 1989 and ratified by the UK in 1991.
The Convention is a very important document because it recognises that all children have the right to be treated with dignity and fairness, to be protected, to develop to their full potential and to participate. It also lays out what countries must do to ensure that all children can enjoy their rights, regardless of who they are, or where they are from.
A Unicef UK Rights Respecting School is a community where children's rights are learned, taught, practised, respected, protected and promoted. Children and young people and the school community learn about children's rights by putting them into practice every day. The Award is not just about what children do but also importantly what adults do – in Rights Respecting Schools, children's rights are promoted and realised and adults and children work towards this together.
At Greenacres we are working towards being a Level 1 Rights Respecting School.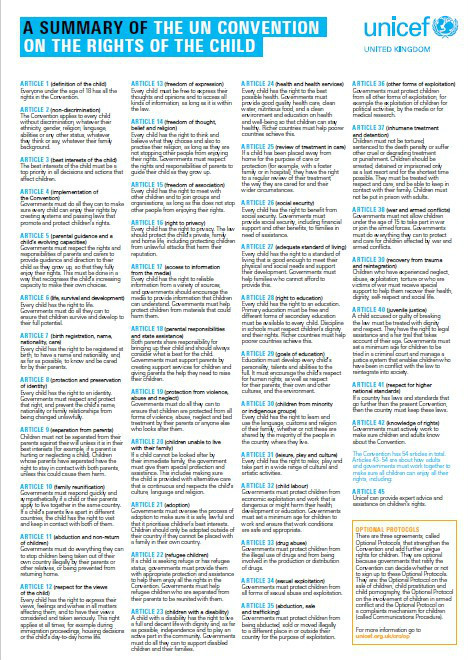 The full version of the Rights of Every Child can be downloaded here:
What are we aiming for at Greenacres?
- All children and adults will learn about the Convention. Children's rights become an integral part of the school's learning.
- Children, young people and adults in our school learn how the values and principles of the Convention help to create a safe and healthy environment.
- Children and young people meaningfully participate in the school's life and have opportunities to express their views, be listened to and influence positive change in their school. In Rights Respecting Schools, children and young people are involved in how the Award is implement in the school but are also involved in strategic decision-making; in decisions about their learning; and in views about their wellbeing.
- Children and young people are empowered to access information that enables them to make informed decisions about their learning, health and wellbeing.
- Children and adults develop an ethos and language of rights and respect around the school. Rights and principles of the Convention are used to clarify moral developments and consider rights-respecting solutions – this all has a huge impact on relationships and well-being.
- Children and young people get very involved in raising awareness about social justice issues, both at home and abroad. They become ambassadors for rights and take part in campaigns and activities to help to bring about change.