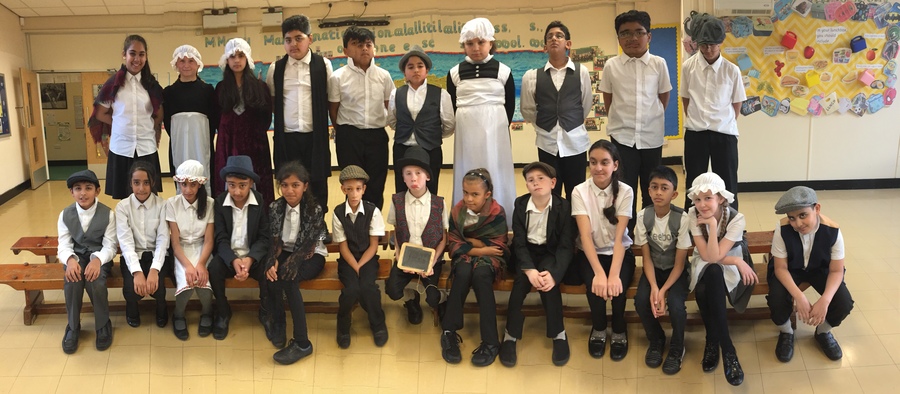 Year 6
Victorian Day
We started our new British History topic with a Victorian Day in the Year 6 classroom. Pupils' hands and uniforms were inspected for cleanliness and lessons were taught like it was 1888, the year after Queen Victoria's Golden Jubilee These included Bible studies, handwriting, calculating with pounds, shillings, guineas and pence and times tables practice through Napier's Bones. In the afternoon, the class identified the read of the British Empire at the time. For misbehaviour, the Dunce's Cap was used. Thankfully, Mr Roach did not have to cane anybody on this occasion.
In Year 6 so far we have studied the continent of the Americas and history of the Maya civilization in Mexico, plus a short study of the First World War. Our next topic is Victorian Britain and the Industrial Revolution. After Christmas, we turn our attentions to geography with a study of the Arctic and Antarctic. Other topics for the year include the Second World War, the human heart and keeping healthy, and Charles Darwin's theory of natual selection.

The importance of reading
We are passionate about reading in Year 6. Not only does research show that reading makes you cleverer, learning more words and facts and opening your mind to new ideas, it's also incredibly pleasurable. Reading more will enable pupils to expand their knowledge and vocabulary, making more connections across the curriculum. Great readers generally do better in maths, science, history, geography and modern foreign languages, as well as English. Pupils' reading diaries are usually checked on a daily basis. Please help your child remember to read for at least 15 minutes every day. They will have a school reading book which has been carefully selected as appropriate for their reading age. They may also borrow books from the extensive class library. If they forget to take these home, any appropriate reading material at home may be read instead, such as their own books or even the newspaper.
We read in class daily, including stories read to the children by the teacher. Books we will read this year include The Viewer by Gary Crew and Shaun Tan, Stormbreaker by Anothony Horowitz, A Christmas Carol by Charles Dickens and The Last Wild by Piers Torday.
Our memorable experience for Autumn 2 - Fallen Fields: a day in the life of First World War soldiers in the trenches.

PE 2016-2017
Our timetabled days are on Mondays and Thursdays. For most PE lessons (except gymnastics and dance), we try to get outside as much as possible. However, the weather can often mean it is cold or damp at these times. For this reasons, pupils require outdoor and indoor PE kit. Outdoor kit should include trainers and a tracksuit or appropriate long-sleeved and long-legged clothing. Indoor kit should include a PE t-shirt and shorts. For health and safey reasons, earrings should not be worn in PE and long hair must be tied back.
Autumn 1 - netball and orienteering

Autumn 2 - rugby and gymnastics

Spring 1 - dance and dodgeball

Spring 2 - hockey and gymnastics

Summer 1 - tennis and cricket

Summer 2 - rounders and athletics