Worms Week
Week commencing 23rd May 2016 was Worms Week at Greenacres. Each class carried out a scientific investigation about worms but they also incorporated worms into their English and Maths lessons. The children had lots of fun learning! Here is a summary of what each class did as well as a slideshow of the many photos that were taken throughout the week!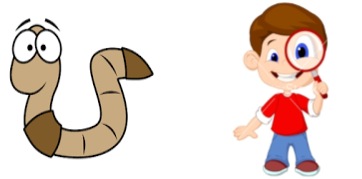 &nbsp
Reception
Our Reception class started off the week by going on a worm hunt and making a wormery. The children looked at them closely and then drew and discussed what they saw. They also observed how the wormery changed as the week went on. The class read the book "Wiggling worms at work" and even did some spaghetti painting.
&nbsp
Year 1
Our Year 1 class read the book "Yukky worms" and then wrote a letter to a friend about how to look after worms. They then went on an earthworm hunt with Year 2 and carried out an investigation about where worms like to live. They recorded and evaluated their data and ended the week measuring worms to find out which were the longest and which were the shortest.
Year 2
Our Year 2 class read the book "Don't poke a worm will it wriggles" and wrote poems about worms. They went on an earthworm hunt with Year 1 and collected worms, in groups, to see who could collect the most. They then carried out an investigation involving discussion, prediction, collating data and reviewing the results. They finished off the week with some observational drawings of worms.
&nbsp
Year 3
Our Year 3 class read the book "How to eat fried worms" and then, after carrying out some research, they produced fact files. They wrote poems and looked at the life cycle of a worm. They collected worms with Year 4, measured them and then recorded and presented the data.
&nbsp
Year 4
Year 4 began by listing what they knew about worms and what they would like to find out. They then observed worms and identified the external parts of them, drawing in pencil when they stayed still for a while! They then completed a diagram of the internal workings and found out about what the various parts did. Later, they measured the worms from a vegetable patch sample and collated their findings to make bar charts. After learning a few techniques for 'worm charming' they had a competition with Year 3 to see who could find the most worms - it was hotly contested but Year 3 came out the clear wiggling winners! Their science investigation focused on whether worms could sense danger. The class also read "How to eat fried worms".
&nbsp
Year 5
Year 5 read the book "Superworm" and wrote their own reports about worms. The class used their knowledge about measurement, area and perimeter to calculate how many worms were on half of the forest school area and then produced posters as well as a scientific write up.
&nbsp
Year 6
Year 6 began by learning about the many different types of worms in the world, before looking at the lifestyle and habitat of earthworms. They conducted a worm search on the school field, collected data and produced mathematical presentations. They learned about how baby worms are made (they hatch from a cocoon!) and finally, we read and wrote about the legend of The Lambton Worm.
&nbsp